Hunner-type interstitial cystitis(HIC)
Disease
Interstitial cystitis is "a disease that is accompanied by nonspecific chronic inflammation of the bladder and presents with symptoms such as urinary frequency, hyperuria, urinary urgency, and bladder pain" (according to interstitial cystitis practice guidelines). There are two types; Hunner's type (with Hunner's lesions) and non-Hunner's type (without Hunner's lesions). Hunner type interstitial cystitis presents with clear abnormal findings (Hunner lesions) as assessed endoscopically and pathologically. It is more severe in terms of symptoms and designated as an intractable disease in Japan.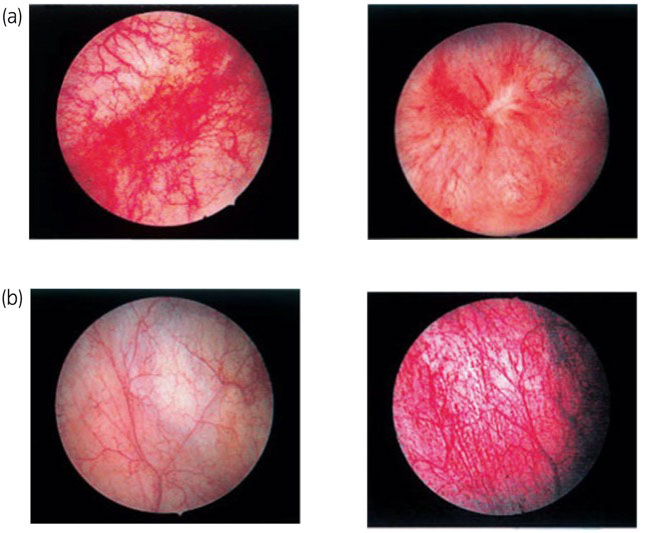 Patient
According to a survey by the Society of Interstitial Cystitis of Japan (SICJ), the number of patients with interstitial cystitis is reported to be approximately 4,500 in Japan as a whole, of which 45% (about 2,000 patients) are Hunner type. It is also known that the male-to-female ratio of patients is 1:5.6, and that the disease is more common in women, especially in the middle-aged group, but it is also seen in men and children (2).
Current Treatment
Existing treatments include surgical and pharmacological therapies, but there is no established cure and treatment remains symptomatic. In addition, because the disease requires long-term medical management with repeated relapse and remissions, the development of therapeutic agents based on new mechanisms of action is required.
Anti-IFNg aptamer TAGX-0003
TAGX-0003 is an oligonucleotide DNA aptamer that targets human IFNg containing our proprietary artificial base Ds and shows high affinity and specificity of 33 pM for human IFNg (3). IFNg is known to play the most central role in the pathogenesis of autoimmune diseases and is considered to be one of the most important drug targets that can ameliorate autoimmunity and provide a fundamental treatment for the diseases.
TAGCyx have already confirmed significant improvement in urinary frequency and bladder pain and suppression of inflammation in pathological findings in an animal study of an autoimmune mouse HIC disease model using a mouse surrogate aptamer.
TAGCyx is moving forward with non-clinical studies of TAGX-0003, with the aim of entering clinical trials soon.
The research and development of TAGX-0003 for Hunner-type interstitial cystitis is supported by the 'Support Program for Orphan drug prior to the Designation' of Japan Agency for Medical Research and Development (AMED) (4).
[Reference]
Interstitial cystitis, bladder pain syndrome, hypersensitive bladder, and interstitial cystitis/bladder pain syndrome – clarification of definitions and relationships. Homma Y. Int. J. Urol. 2019; 26: 20.
公益財団法人 難病医学研究財団/難病センターWeb site:https://www.nanbyou.or.jp/entry/4429
Architecture of high-affinity unnatural-base DNA aptamers toward pharmaceutical applications. Matsunaga K. et al. Sci. Rep. 2015;
令和4年度 「創薬支援推進事業―希少疾病用医薬品指定前実用化支援事業―」の採択課題について: https://www.amed.go.jp/koubo/11/02/1102C_00036.html